We're fast approaching the most amazing bike vacation of 2015, the Bike Virginia Highland Expedition. Sign up for Bike Virginia before June 10 at midnight to take advantage of our online registration process (fast and easy) and to complete he online safety briefing before coming to the event.  (Walk in registration still available after June 10, but not as easy!)
The tour kicks off on June 26 in Abingdon Virginia and carries us over 400+ miles of Virginia and Tennessee bike routes to pick from including 2 centuries, 1 almost century (96 miles), 4 metric century bike routes, and several shorter options.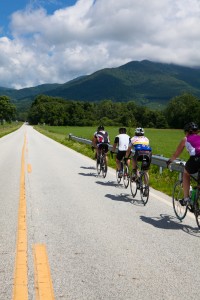 Carefully planned just for riders like you, this made from scratch event, will leave you with a smile that lasts weeks and memories to last a lifetime.
2015 Bike Event Activities
Here are a few highlights:
Bike Virginia's bike event offers all the things a great bike vacation needs. Read the What's Included Section on the Registration Page to see more on services.
Sign up today to take part in the convenient online registration and to take part in the online safety briefing. Save yourself time and hassle at the event. (Walk in registrations are accepted, but wouldn't you rather do things the easy way?)
Breakfast Plan Ordering Deadline
The deadline for signing up for the breakfast plan is June 10 at midnight. We have to provide our orders to the caterers so don't miss the chance for hot convenient food at headquarters. Buy this with  Bike Virginia event registration purchase.