We're getting close to your time and now is a fun time to start thinking about your vacation. Here is a preview of our general activity schedule and event schedule for the 2017 Bike Virginia Tour. Registrants can choose from the Weekend Escape, 6 Day Ride, or 3 Day Weekend registration options.
Friday June 23, 2017
Kick off of the event. We begin registration at 10am. The grounds open at 10am at Glen Maury Park for camping set up and RV parking. Check in to get your packet and then hit the road for our 30-40 mile Prologue ride which is the perfect length (30 miles) to stretch your legs and help you kick off your bike vacation. Afterward enjoy a meal from a food truck, some live music at our Kick Off Party, and a beer or glass of wine from the on-site vending garden.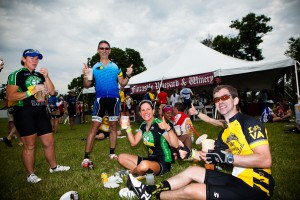 Parking is conveniently located on-site. You're car will be within easy reach so you can come and go as you like.
Saturday June 24, 2017
Check in continues on Saturday morning. Our first full day of riding begins. Enjoy the route of your choice at your leisure. Just be sure to start riding by 9:00am so you can complete the ride before the routes close. Routes offered Saturday range from 20-65 miles. Enjoy the sights and rest stops along the way as you explore the beautiful community surrounding the Glen Maury Park riverside headquarters location.
When you return to headquarters enjoy lunch with your token at one of the food trucks, drink a cold drink, and put up your feet. Take a swim in the park's pool. Stretch and unwind with yoga, massage or meditation. Take the bus to go river tubing or visit historic Lexington, a winery, or a local restaurant. Join a Jam session or listen to some great live music on site.
Sunday June 25, 2017
Check in continues on Sunday morning. Stretch as the sun rises, enjoy breakfast or coffee from a vendor, and then head out on the route of your choice at your leisure (be sure to leave by 9:00am). Enjoy a challenging or a leisurely ride on one of the optional routes ranging from 20-100 miles. Eat and rest at the convenient stops where you can mingle with riders from all over the US and international locations. Soak up the lush green landscapes in the valley and forget the woes of your work by the time you return to camp. Meet friends for lunch from one of the food trucks, drink a cold drink, then enjoy a swim. Finish your recovery with yoga, massage or meditation. Afterwards enjoy some live music on site or head to town on the bus or in your car. The choice is up to you!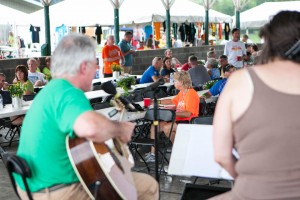 Monday June 26, 2017
Monday is move day and the entire party will pull up roots and head to Staunton. Check in for those just joining in takes place in Staunton. Read more about our Double Vision formula which means that your experience at headquarters 2 is just as great as site 1. Pack up your camp in the morning and move out by 8am. Drive on over to Staunton and set up your spot in the lovely and expansive site at Staunton Crossing. Riding will be hosted from this new location.  We offer an assortment of 3 routes from 20-60 miles so you can take your time and ride after the move. Enjoy lunch after riding, settle into camp. Get that much needed massage, do some recovery yoga, or practice mindfulness with our meditation experience. Strike out for a few hours on the town. Staunton is lovely! If you prefer, stay in and relax to our talented regional musicians, or join a Jam session with your own instrument.  Afterwards enjoy some live music on site or head to town on the bus or in your car. The choice is up to you!
Tuesday June 27, 2018
Wake up in to the singing birds at Staunton Crossing and prepare for another great day of riding. Pick a route that suits your mood from 15 miles to 100 miles (our second century). Try a new food vendor today for your post ride recovery lunch. Treat yourself to something healing to boost your body. Visit a local restaurant for a nice meal and glass or regional wine or stay in to enjoy some relaxing on-site musical activities. Catch spirit of the celebration with and enjoy the stars tonight in the big dark skies around Staunton, as it's the last evening of the event.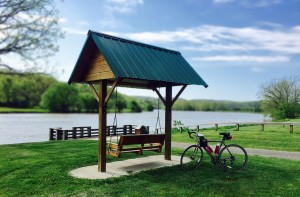 Wednesday June 28, 2018
It's a final chance to ride and let us to take care of all the details. Cruise on our easy to follow marked routes from 25-60 miles. Savor every last view and last downhill cruise. Let your mind wander over all the fun you've had these past days. Celebrate at each rest stop with the new friends you've made. Enjoy a hearty lunch back at headquarters and a special "You Did It" treat. Soak up that happy tired contentment. Pack and leave at your leisure in the afternoon. All event activities conclude at 5pm.