There's more than just your bike, beautiful scenery, and interesting sights to entertain you during your Bike Virginia Tour! You'll also be treated to some great local musicians! Every evening we'll have something different than the night before. We've got everything from some good old foot stompin' fiddle music and old-school blues to a steel drum band whose melodies will transport you.
Both our base camp locations of Bisset Park and Claytor Lake State Park are beautiful park settings in the New River Valley and provide a serene backdrop to hear these local musicians. There's no better way to relax and recharge for another day of cycling!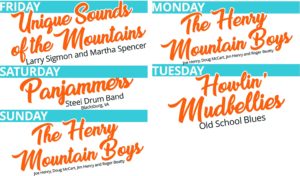 Check out these great acts on their website of Facebook Pages.
Unique Sounds of the Mountains
See you in June!